Guide to Buying the Perfect Baby Sheets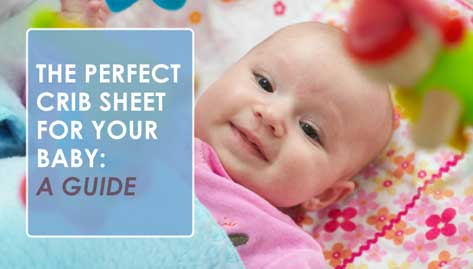 Getting ready for a new baby can be a fun, but also challenging process. There's a lot to do in a very short amount of time, and if you're not careful, you can find yourself feeling overwhelmed and lost. Although those around you may mean well, the sheer volume of advice a new parent will receive can make anyone's head spin. And while some of the advice may sound contradictory, the majority you will receive is based on experience and trial and error.
That is the great thing about preparing for a baby in this day and age. A lot of the suggestions you will hear come from years of personal experience and research. For new parents today, this means wading through a lot of information and many different topics, such as recommended feeding methods, appropriate toys and ideal room colors, just to name a few. With some topics, however, the advice is clear and purposeful. A great example of such a topic is buying crib sheets for your baby.
You may have not thought much about crib sheets before, but deciding what crib sheets are right for your baby is an important decision that comes right after buying your baby's crib, bassinet, mini crib and/or cradle. The upside is the right choices are clear. Fitted cotton crib sheets are the most popular option in any nursery, and you will most likely see them available at any retailer.
However, there are still a few alternative options out on the market. For a new parent it can be tempting to try something a little different, but don't be distracted by different textures and colors without knowing all of the facts. Read on to learn about the different types of baby sheets and the different materials and sizes they come in, but most importantly, you'll discover why picking the right sheet for your baby's bed is important.
You might know from personal experience that an adult set of sheets usually comes with a set of pillow covers, a fitted sheet and a flat sheet. When it comes to baby crib sheets, however, fitted sheets are the way to go. They will fit tightly around the mattress and won't come loose or bunch. Although flat sheets may be an option you will come across, these are highly discouraged.
A baby's crib, especially in the first year, should be left clean and clutter-free inside. This means no toys or extra blankets, as your baby can become tangled or stuck. Flat sheets are highly discouraged for this very reason, and they offer no purpose in the crib. If you are afraid of your baby getting cold during the night, dress your baby in a warmer onesie to keep cozy. If you want to have a blanket available to offer comfort when carrying or feeding your baby, keep one where you can easily get to it but not where your baby can pull it inside the crib.
Buying the right crib sheets for your baby is important for health and safety reasons. Loose crib sheets can come off the crib mattress, and your baby can get tangled in the folds. To minimize this risk, it is imperative to pick tightly fitting sheets with deep, strong pockets that won't budge. To know what sheets are the right size for your baby, you must know the size of the crib, bassinet or mini crib mattress your baby will be sleeping on.
Many mattresses are standardized and will provide you with the accurate measurements. It is always a good idea to measure the mattress for yourself, however, to get a clear number. But if you are looking for an idea of the average sizes of these mattresses, take a look below.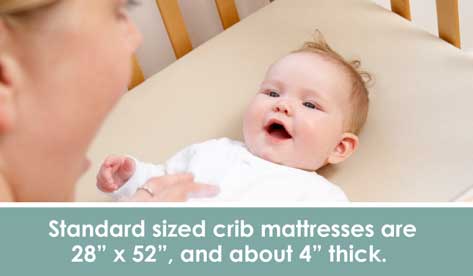 Standard sized crib mattresses are
28" x 52"
, and they are usually about 4" thick. Do not rely on these measurements, however, as the most exact measurement you can have is the one you get yourself. The great thing about standard crib sizes is that they are uniform and versatile, allowing you to get the most use out of them. Many standard cribs can convert to toddler beds, meaning the investment you make in the correct sheets now will pay for itself ten-fold.
Although standardized for the most part, bassinet mattress sizes can vary. An average sized bassinet mattress will be
15" x 33"
, with a depth between 1" to 2" depending on the manufacturer and style. Many bassinets can also be converted to cribs, changing tables and even strollers, so if you go with this style, your money will not go to waste.
A standard mini crib mattress is about
24" x 38"
, so it's almost as wide as a standard crib but much shorter. A mini crib is a great option if you're limited for space or if you want to keep your baby close. Some mini cribs can be converted into playpens that can be moved from room to room, making a mini crib a great option if you're looking for something versatile.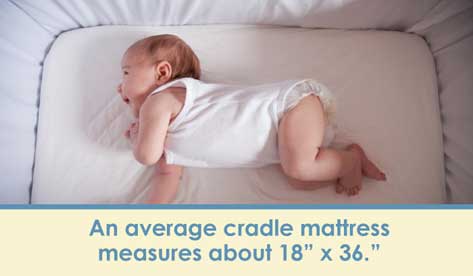 What size is my cradle mattress?
Cradle mattress sizes can also vary depending on manufacturer and style. Average cradle mattress sizes hover around
18" x 36"
, but measuring is still key.
What size is my baby basket?
Baby baskets, also known as Moses baskets, are quite convenient and portable. They're a great choice for parents who are mobile and still want to keep their baby nearby, making them a popular product. The standard size for a baby basket mattress is
13" x 27"
. If you're in doubt, simply measure to get the most accurate reading.
What size is my Pack N Play mattress?
Pack N Play, the portable crib and playpen combination, is also a very popular option for parents who want to provide their babies and toddlers with a safe space to play in, while also maintaining portability. The average Pack N Play mattress is
27" x 39"
. Although it's perfectly safe to use the Pack N Play as is, adding a fitted crib sheet on top will help keep it cleaner longer and make cleanup a breeze.
Picking The Right Baby Sheet Fabric: Why It's Important For Health And Safety
Now that you have an idea of what sizes to look for when shopping for sheets, there's another important aspect you must consider: fabric. You will find that cotton is the most common and popular fabric when it comes to crib sheets, and there are very specific reasons why.
Cotton: The Best Option
Cotton is durable, breathable and natural. If your baby has potential allergies, you will be happy to know cotton is also hypoallergenic, minimizing the risk of allergy triggers while your baby is resting. Cotton is the most popular fabric because it is natural and can be used year round. Although there are other options on the market, none of them come close to the balance between health and safety that cotton provides.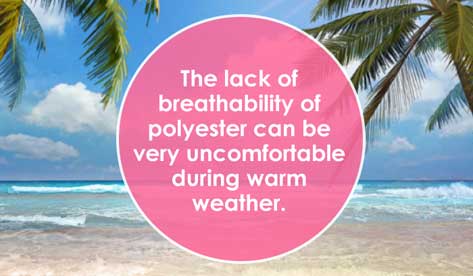 Polyester: The Failed Contender
It can be really tempting to try polyester, especially considering the different colors and textures polyester offers. Polyester can be a soft velour or microfiber, making it really comfortable to sleep on. However, the upsides stop there. Polyester can be durable, but only depending on the manufacturer. And although polyester is a popular and less expensive option to cotton and flannel, polyester does not breathe well and does not stand up to high heat. The lack of breathability can be really uncomfortable during warm weather.
Honorable Mentions: Organic and Alternative Natural Fiber Sheets
For the parent who wants higher-quality sheets that are safe and hypoallergenic, organic sheets might be a great option for you. Organic sheets are usually made with only organic materials to minimize environmental impact and risk of allergy. The downside is that organic sheets might be much more difficult to find versus their competitors. They can also vary in quality depending on the retailer, so make sure you buy your organic sheets from a trusted source.
Alternative natural fiber sheets are made from natural fibers other than cotton. Currently, bamboo is the most popular material being used for alternative fiber sheets. Although the idea is in the right place, alternative fiber sheets can be incredibly rough and stiff. They are also susceptible to pilling and can stretch or wear very quickly. Natural fabric is still a great way to go, but when it comes to your baby's crib sheets, your best option is going to be cotton.
Keeping Your Baby's Sheets, And Your Baby, Safe And Clean
One of the easiest ways to keep your baby's crib sheets clean is to replace them right away once they are soiled. There's no concrete number of sheets you should have on hand, but recommendations range from 2 to 6, depending on your budget and ability to do laundry regularly.
Keep in mind you should wash your baby's sheets immediately after opening to wash away any dyes or chemicals and to help soften them for the day you bring your baby home. If you feel your sheets are too stiff or rough, consider washing them with a cup of baking soda or vinegar to soften them.
Other Considerations for Your Baby's Sheets
There are a variety of other things to consider when looking for the best crib sheets for your baby. When you're searching, make sure to look at these components:
Thread count.

The higher the thread count, the thicker the material can be, and the softer it will feel. Instead of spending money on several different sets of sheets with varying qualities, one sure way to get the best out of your investment is to pick a few pairs of high-quality cotton sheets and work from there. They will be softer than lower-quality sheets, and they will last much longer.




Weave.

Your sheets will feel different depending on how the material is woven. For a standard weave, the stiches are woven in a one stitch over, one stitch under pattern. This is a durable stich that is used across the board. It makes the finished product feel soft to the touch, but this weave produces a fabric that is much more prone to tearing and wear.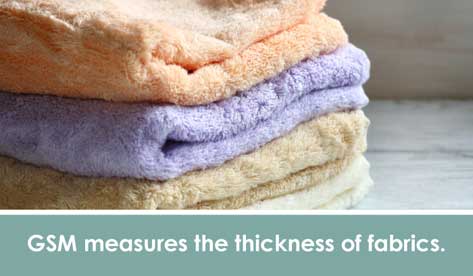 Thickness or GSM.

GSM, or grams per square meter, measures the thickness of fabrics such as towels and blankets. When buying your baby's crib sheets, you might want to consider GSM if you're looking for quality. Sheets with a higher GSM will offer more padding between your baby and the mattress, but they will also be more absorbent and take more time to dry. Lower GSM sheets, however, will be thinner and can be more likely to tear. At SheetWorld, all of our jersey knit sheets are 155 GSM.




Color and style.

No matter what type of bed you pick for your baby, whether it be a crib or a bassinet, you always have the option to decorate your baby's space in a way that is pleasing to you and your family. Your baby's room should be a complement to your space. It should not feel foreign or out of place, but rather, it should be an extension of you and your family — just like your baby.
When picking out crib sheets, have fun with colors and patterns. Be sure to keep safety and durability in mind when redecorating your home to welcome a new baby, but don't forget to still enjoy the process.
Although all of the preparation can feel overwhelming, years or even weeks from now when your baby is home, you won't remember the time spent picking out sheets and furniture with regret. You will be happy knowing you took this task seriously and you did the best for your baby and your family. In the end, that's all that matters. If you're interested in purchasing crib sheets for your baby, browse the selection at SheetWorld today.